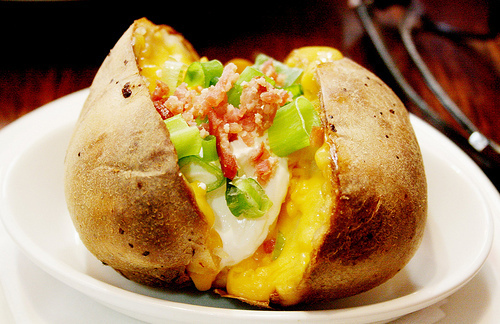 College students are notorious for being… well… broke. What do you do when you're hungry and you can't afford even the $8 for a meal at Mickey D's?  Granted, you can get one of those frozen food entrees, but… don't they all taste the same? And they're not all that cheap either, not to mention that you have to have a lot of freezer space to store them.  Here are a few really great — and tasty — meals you can whip up in a microwave. They may not be gourmet fare, but they'll keep you from feeling your stomach fall into your spine!
The equipment you'll need are some microwavable dishes — a pie plate, a small square or round casserole dish, preferably one with a lid. A set of tongs is also helpful. Add some plastic wrap, and a roll of paper towels. If you want to splurge, add a sieve or a colander for draining.
What you need: a package of up to chicken pieces — thighs, wings, or legs (do not use breasts); about ½ cup biscuit mix (any brand) or cornbread mix, 1-2 tsp chili powder, 1 tsp paprika, salt & pepper.
What you do: put everything except the chicken in a resealable plastic bag, close it up and shake to mix everything around. Put two pieces of chicken in at a time, close the bag, and shake to coat. Arrange the chicken in the microwavable pie plate with the thickest part toward the outside edge. Cover with paper towels, and microwave for 16 to 19 minutes on high. If your microwave doesn't have a turntable, rotate the plate about halfway through the cooking time. Make sure the juices run clear and the meat is cooked all the way to the bone.
2. Microwave Bagel Nachos
What you need: bagel chips; shredded Mexican taco cheese; jar of salsa; 2 tablespoons sour cream.
What you do: put the chips on your microwave pie plate. Sprinkle with the shredded cheese. Microwave 30 to 45 seconds until the cheese is melted and bubbles. Add dollops of salsa and sour cream. Yum.
3. Basic Baked Potato
What you need: a baking potato. Your favorite toppings: butter, sour cream, salt, pepper.
What you do: wash the potato to remove dirt and dry it. Pierce the potato several times with a fork. Put it on a towel or microwavable plate in the microwave. Microwave for 10-15 minutes until the potato is tender to a fork. You'll want to turn the potato over about halfway through the cooking time.
4. Mexican Baked Potato
What you need: a baked potato from the Basic Baked Potato Recipe (↑ up there).  ½ lb ground beef; shredded Mexican cheese, small jar of chipotle chiles in adobo sauce; jar of tomato sauce (your favorite).
What you do: crumble the ground beef in the microwavable casserole dish and microwave in 1 to 2 minute intervals, stirring between each, until the beef is cooked. Put it in your sieve and run hot tap water over it to remove the fat.Empty and rinse out the casserole dish too and put the beef back in the casserole. Add in a chipotle chile if you like (chop it up), about half a cup of tomato sauce, and maybe half a cup of cheese, and stir it in with the beef. Heat it 1 to 2 minutes until warm and bubbly. Spoon it over your cooked baked potato… yum!
5. Jambalaya
What you need: 1 c. of frozen stir-fry veggies; jar of salsa; small can of stewed tomatoes; instant white rice; ¼ lb cooked sausage, cut into slices; 1 c. cooked chicken (from a can or left over from a rotisserie chicken).
What you do: put the stir-fry veggies, a big spoonful of salsa, and the can of tomatoes in a microwavable casserole dish.  Cover and cook on high for 3 or 4 minutes, stirring about halfway through. Stir in the rice. Cover and cook on high for another 2 minutes, again stirring halfway through. Stir in the cooked chicken and sausage. Cover and cook on High another 2 or 3 minutes, stirring halfway through, until the whole dish is hot and bubbly.
6. Ravioli
What you need: ½ lb ground beef (or chicken or turkey); 1 can beef ravioli; shredded mozzarella or cheddar cheese.
What you do: crumble the beef in your casserole dish, cover with a paper towel and microwave in 1-minute intervals, stirring after each, until beef is fully cooked and not pink. Put the beef in a sieve to drain the fat, and run hot water over it. Put the beef back into the casserole, add the canned ravioli, and cover. Cook for 3 to 6 minutes, stirring at least once, until it's hot. Sprinkle with shredded cheese, cover again, and wait a couple minutes until the cheese is melted.
7. Veggie Pizza
What you need: a 6" pita, jar of pizza or pasta sauce (your favorite), chopped fresh veggies (your faves) — consider chopping up a small tomato, small zucchini, olives, onions, peppers, whatever you like, dried basil, salt, and pepper, shredded mozzarella.
What you do: split pita in half horizontally to make two rounds. Spread sauce on each round and put onto a microwavable plate. In your casserole, put zucchini or any other squash-type veggie (if you're using it), and cook on high for 2 or 3 minutes until it's tender. Stir in the chopped fresh tomato and the rest of the veggies and seasonings. Spoon the topping mixture onto the bread rounds. Top with shredded cheese. Microwave each one for 45 seconds to 1 minute until it's hot. Cut into wedges and serve.
Bon appétit!