College! Freedom! Independence! The beginning of a fresh start, a platform from which to launch the rest of your life and the chance to meet life long friends and have a lot of fun at the same time. I think your conscience has a lot to do with those first few years after school where you attend college and start to wrest management of your own life for the first time. Staying true to your conscience isn't always easy but Vincent van Gogh famously said, "Conscience is a man's compass". I'm sure he meant women too!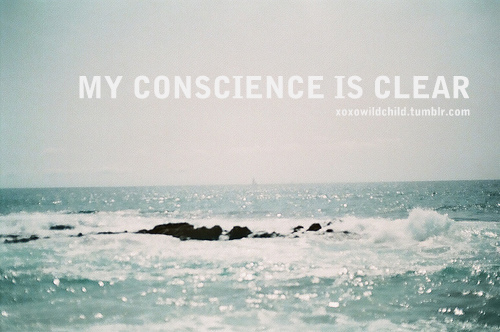 So here are 7 tips for helping to graduate college with a clear conscience:
1. Get involved with college life
Don't regret not making the most of the life that is the College Campus. Whether you decide to try the Greek life and plan to join a sorority or fraternity in rush week, join a club that interests you or attend any of events, activities and parties that each college and Dorm holds, you will I'm sure connect with many people in the same boat as you and go on to be life long friends. Rarely again in your life are you placed somewhere where you can meet so many people all at once like that, particularly once you start in the workforce. Making the most of what's on offer and getting involved is one thing your conscience won't regret.
2. Choose a course/major that motivates you
We all have different motivations for the career path we take and each is unique and specific to us and our circumstances. We can't all be Fireman or Ballerinas like we may have wanted when we were young but if we can strike a balance between what is practical as a career choice for us as well as something that genuinely interests or inspires us our conscience will be light.
3. Stay informed about the plight of the world
I read a quote somewhere once that said, "One half of the world's people live on less than two dollars a day". This should concern our national security policy as well as our conscience. At the end of studying at college we will be (hopefully) educated, well-rounded people that are concerned about the world. After all what is an education if we can't put it to use at least in some small way to help better the world? It goes without saying that our conscience would approve.
4. Keep your grades up
It makes your life both at college and after you graduate easier especially if you are going onto grad school, law school, med school or looking for an internship — and it lets your conscience rest a little easier too. Use time management and balance to get the work done that you need to, to a standard you are going to be happy with in years to come.
5. Look after yourself
Balancing your busy social life, having a good time and burning the midnight oil with all- nighters before papers are due with eating well and exercising is an artform in itself. Heath and sports facilities are now well established at most colleges though which helps to make this possible.
6. Try not to get into debt
Be realistic about your budget while you are at college. Getting into debt and overspending is one thing that your conscience can keep you up at night over. There is a lot of good advice out there on ways to save money at while you're at college, and to help you graduate college with not only a clear conscience about your funds but with some money in your pocket too.
7. Okay this final tip is obvious but: Try not to do anything really unsafe or stupid
This last tip is a very obvious one for graduating with a clear conscience in tact. Have fun but avoid doing anything you will regret later or could harm your chances of a good career prospect after all your hard work. This is perhaps where listening to your conscience can be most significant. If it doesn't feel right, don't do it.

My advice is don't try to be too cool, be yourself and enjoy it all. A website I wish I'd known about while at college which discusses important topics like Men & Women, What is Love, How can we save the world: World Transformation Movement — check it out!