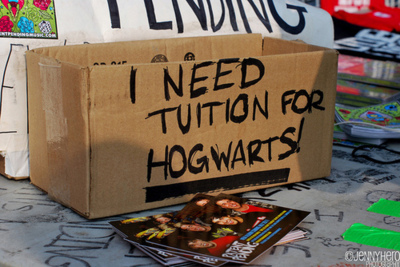 Yes, it is frightening! Returning to school is also challenging for most students who have been away from the classroom for a bit. For moms enrolling in college, the most challenging part may actually be finding the money to pay for classes without sacrificing the basics that their families actually need to survive. The key to eliminating cash flow worries is to locate low interest loans or free money that has been set aside for this purpose by various organizations or government programs.
The best place to begin your search is probably at the college financial aids office on the campus of the school you wish to attend. Most have excellent counselors who will guide you toward the funding sources best suited for your needs. Because some advisors are not as motivated as others, this should only be the beginning of your search for college cash. You should also take the initiative to look for scholarships and grants on your own. Take advantage of all of the following sources to find information about funds for college:
Online searches for grants and scholarships by designated year
Local clubs, organizations, churches and charities
Competitions and sweepstakes
Co-op opportunities, work-study programs and fellowships
Neighbors, fellow students, and teachers
By spreading the word that you are in need of financial help and asking others about their experiences, you will have better odds of hearing about some of the lesser-known sources of college funding.
Where Is the money?
Some college funding covers all the years that it takes to complete the courses necessary for degree completion, but most have to be applied for annually. The following are just a few of the hundreds of sources that have money waiting for moms determined to succeed:
Federal Dollars:  Federal Pell Grants and Stafford, Federal Work-Study, Federal Stafford Loans, Federal Supplemental Educational Opportunity Grants, Plus Loans, and Federal Perkins Loans are areas of financing that might help moms planning to go back to school.
Corporations Offering College Funding:  Large businesses are known for their philanthropic giving and many invest in scholarships and grants for college students. Moms should check out opportunities provided by the following companies:
Wal-Mart
At&T
Coca-Cola
Exxon Mobile
Pepsi
Target
Best Buy
Ford Motor Company
Any corporate giant on the Fortune 500 list is worth investigation.
Vocational Organizations Offering Scholarships or Grants:  Many local alumni associations offer small scholarships on a competitive basis, but other career oriented organizations do the same. Some of the ones most often involved in this area are as follows:
Emerge Scholarship Program
Jeannette Rankin Foundation
Burlington Business and Professional Women's Organization
A thorough online search will produce valuable direction to the grants and scholarships that are a perfect match for your situation and talents. With persistence, any mom can find the necessary funding to further her education and what a difference it will make for the rest of her life!

Guest author Jennifer Lewis writes for a website with information on scholarships and grants for women. She believes moms should not be deterred from returning to school because of financial worries, as there is help available for those that take the time to look for it.