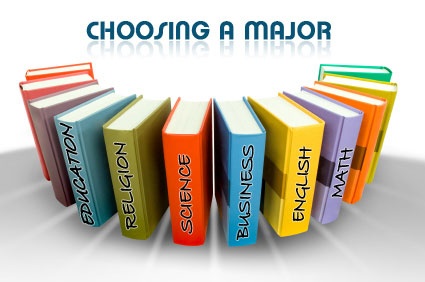 Getting a degree can be one of the biggest financial investments you make in your life – and the cost is rising every year. Most students go to college for one simple reason – to make more money in their chosen field. But what if you haven't chosen a field? It's very common for students to not know exactly where their interests lie right off the bat. Don't worry if you are being pressured by your parents or teachers to make a decision – taking time to find the right major can be a great thing. It allows you to explore more options and discover skills you may have never known you possessed, all on your way to finding the right niche in the job market for you. There are many factors that go into choosing a major, but in today's economy, the surest path to success may be finding the most versatile area you can.
1. Think Long-term
Before you choose a major, research what kind of jobs people with that degree typically land. You can even research what alumni of your school who graduated in that major ended up doing. You'd be surprised how many different careers fall into the spectrum of the same degree. Your best bet is to steer clear of majors that only lend themselves to one or two specific careers. Even in fields where a steady demand is expected, there could be all kinds of reasons why you'd need a greater skill set.
2. Identify your Broader Skills
Think of what you're good at – which classes you enjoyed and did well in – and try to identify the more generalized skills you used. There are a hierarchy of abilities useful to every major, but what it boils down to is usually much broader. Are you good with numbers, words, or people? Are you good with data? Are you good at solving problems? Are you better at researching, editing, or getting out in the field? Of course this doesn't pinpoint your major, but it's a good idea to make a list of basic areas you should focus on.
3. Consider the Market
Once you've narrowed it down to a specific area, you can research which kinds of jobs are most in demand, and whether you can form some feasible career goals for after you graduate. Find out how the market is going for two or three jobs that sounds interesting to you. You want to pick a major where the most thriving career paths are also ones you can see yourself taking.
4. Don't Rush
Leave yourself open to change your mind. Keep an open mind towards new interests and areas you never thought you could succeed in. Never rule anything out completely – a college education can change your outlook on a subject with the right course or teacher. You might even want to look into schools and programs designed for for a particular area – research the best medical schools, the best criminal justice schools, or the best schools for computers or design. Your education is worth a lot of money – take the time to be secure in your future.
5. Use Your Resources
This can often mean talking to people. Ask teachers in a particular major about their career history, and how they first got interested in their are of expertise. Ask upperclassmen what they like about their major. Get advice from your academic advisors, and even think about sitting in on a class or two to see if you find the major really engaging. It might be worth it to look into internships if you really want to get a strong idea of what it's like to be a professional in a particular area of interest.
When it comes to choosing your college major, it almost always comes down to balancing the possibility of doing something you really enjoy and feel passionately about with something that is guaranteed to make the cost of your education worth it and secure your financial future. The more versatile your major is, the better chance you have of starting down a career path that can meet both of these criteria. There are many versatile areas you can study based on your own skills and interests. There's absolutely nothing wrong with taking your time to make this decision if you're putting in the time and research to make the best choice for you, and if you're keeping an open mind about what that might be.

Amy Nielson is an avid blogger. You can follow her on Twitter @Nielson_Amy.