With the beginning of every semester comes a new shopping list. No, not the one comprising of that new chic look you want to trial for Fall/Winter – the one with all those darn books. Between textbooks and suggested reading, the price of these supplements to your education can come at an astonishing amount: on average over $1000 per year, which is a huge chunk of your spending money.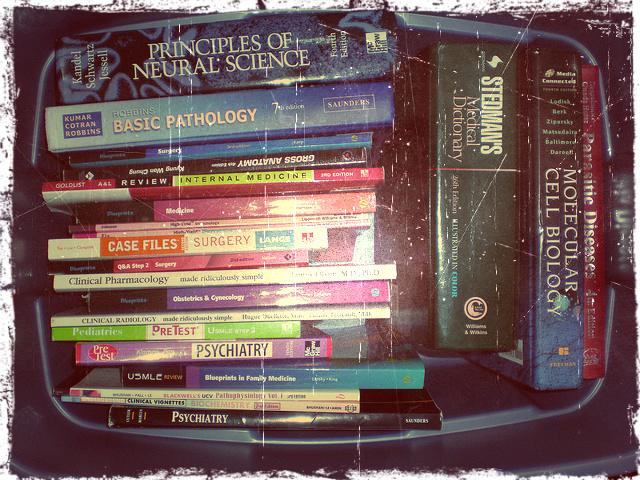 However, there are some simple ways you can save on textbooks and other books required for your course, which could potentially halve that yearly cost.
1. Buy Online
This may seem like a no-brainer to some, but many students still aren't aware of the great bargains you can get online – if you're organized. Try to stem any last minute trips to the college bookshop by making a list of every book you'll need for the entire semester, and then spend some time looking for the best deal available. Often new books will be available from other sellers at discount prices on places like Amazon Marketplace.
2. Buy Secondhand
Some love secondhand books, and some have concerns that they'll be dog-eared, ripped and covered in concerning stains. Avoid places like eBay and Craigslist for purchasing textbooks, as if you are unhappy with the condition of the books it may be harder to return them, though Amazon Marketplace often has a very good selection of used books of a fair quality – and each listing contains a description of the condition so you can't go far wrong. Also check out your college bookstore and library to see if they're selling off used books.
3. Get a Library Card
If you just can't justify paying $20 for a textbook you'll use for just a couple of months for a subject you don't even want to major in, then consider visiting your college library to see if they have a copy you can rent. Be aware that your library may operate a system where students can reserve books, so if you have a book someone else has reserved you can no longer renew it. A top tip is to visit your town's (not college) library to see if they have any of the books you need, as it reduces the likelihood of losing your book to someone else.
4. Share
If you have a friend or roommate that is taking the same classes as you, then it might be possible to work out a sharing system where you halve the cost of books. This works especially well if you can guarantee that you can sit next to each other in class, or your classes are at different times – though if the logistics are too difficult to work out for textbooks, try this method for 'suggested reading' books, when you can simply hand the book over once you've finished it.
5. Use EBooks
Many reference books and textbooks can actually be available online for free with Google Books – simply search for the title to see if the book, or chapter, you need is available. Even if it isn't, eBooks are often cheaper to purchase than their paper counterparts, so an eReader can be a valuable investment – which has the bonus effect of making your bag a lot lighter!
Do you have any more top tips on how to save money on your books for college?

Louise Blake is a first-time mum who still reminisces about her college days – which weren't that long ago. She currently blogs about certificates of achievement and other motivational study tools for School Stickers.