It can be really difficult to keep healthy at university especially when your main food group becomes pizza and the only exercise you get is on the dance floor. But we're here to help! Here are 3 simple, one-pot 30 minute meals!
We all know how difficult it is to eat well when you're at uni – there are way too many other things going on between lectures to even think about cooking.
But next time you stumble in at 6pm after a full day at uni with only an hour to get ready before you meet your mates at the local… instead of giving in and calling the pizza delivery place for the third time that week, just think. Do you really want to go back home at Christmas to whispers of "Wow… Freshman 15 much?"
Healthy meals can actually be really simple. Even if you have the bare minimum of cooking skills, you can make a healthy, hearty meal in less than 30 minutes with just one pot to wash up. I promise.
Here's a rundown of my favorite 3 one-pot 30 minute meals…
One-Pot BBQ Chilli and Rice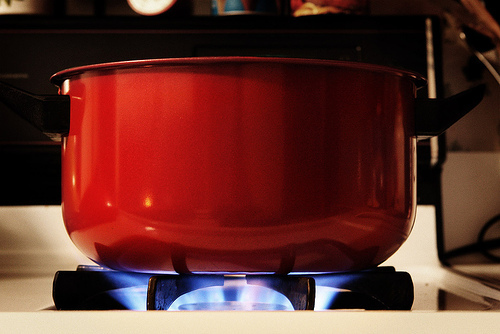 Half a pepper
Half a small pack of mince/70g veggie mince
50g rice
Tin of chopped tomatoes
Half a beef/veggie stock cube
Frozen sweetcorn
BBQ spice
Ketchup
Chop your pepper in half and wrap one half in clingfilm and pop it in the fridge. With the other half cut it into smallish pieces.
Pop a little oil in your pan, heat it up, and fry your pepper over a medium heat for about 3 minutes.
Add your mince, turn the heat up a little and cook until its all brown.
Add in your rice, tomatoes and a good shake of BBQ spice.
Dissolve your half a stock cube in half a cup of boiling water, and add to the pan.
Simmer it for 10ish minutes, stirring occasionally (add a little more water if it gets too dry), and then add a handful of sweetcorn and a good squirt of ketchup.
Simmer for five more minutes, and pop in a bowl to serve.
One-Pot Thai Curry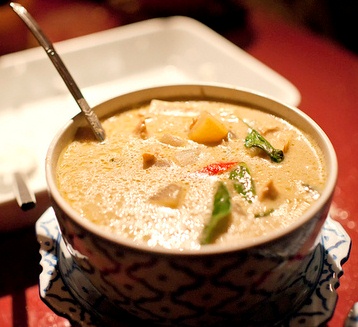 A chicken breast/half a block of tofu
Half a pepper
Thai curry paste (red or green)
Half a can of light coconut milk
Frozen sweetcorn
Straight-to-wok Thai noodles
Lime (if you like)
Heat up a little oil in a frying pan, chop your chicken breast or tofu into bite size pieces, and fry over a medium heat until golden brown and fully cooked.
Meanwhile, chop your pepper half lengthwise into thin strips, and add to the pan when your chicken/tofu is done.
Cook for about 5 minutes, and then stir in a teaspoonful of your Thai curry paste.
Fry for a couple of minutes, and add your half a can of coconut milk (use the rest to make pina coladas!) and add half a cup of water.
Simmer for about 10 minutes, and then add a handful of frozen sweetcorn and 1 packet of ready cooked Thai noodles.
Cook for 3 minutes, roughly until the noodles are done, and serve.
If you like, squeeze a bit of fresh lime juice in for some extra zing.
Sausage and Bean One-Pot Hotpot
2 sausages/veggie sausages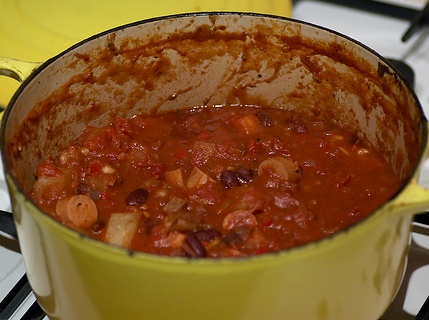 Half a pepper
Half an onion
1 can mixed pulses, drained and rinsed
1 can chopped tomatoes
Half a beef/veggie stock cube
Herbs and spices of your choice (Mediterranean, Cajun or BBQ blends work well)
Chop your sausages up into bite sized pieces, heat a little oil in a pan, and fry the sausages over a high heat until golden brown all over.
Chop your onion half and pepper half into small pieces and throw in the pan, turning the heat down a little.
Fry for about 7 minutes until fully cooked.
Add in your chopped tomatoes, mixed pulses and a good shake of spice.
Dissolve your half a stock cube in a little boiling water, and add to the pan.
Simmer for about 5 minutes, and you're ready to serve!
TOP TIPS

1) Don't be afraid to add extra veg to any of these recipes – kidney beans and onion work well in the chilli, sugar snap peas go great with the Thai Curry, and sweetcorn in the hotpot is a great combination!
2) You can get shaker pots of spice blends in the supermarket for not very much cash, and they really add an extra dimension to whatever you're cooking (even if it is beans on toast).
See didn't I tell you they were simple and easy recipes – now there's no excuse not to eat well and with minimal washing up – BONUS!

Louise is fresh from university and keen to share how she managed to survive purely on a student loan! She blogs for Kids Island, a stockist of electric scooters for kids and cheap bouncy castles for sale.