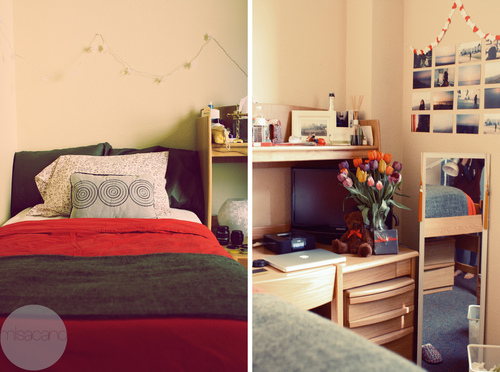 Starting college isn't always easy. It's your first step towards adulthood and independence. This may be the first time you've ever been away from home, or even out-of-state! Amid all of the anxiety during your first move to college, the presence of some familiar (and useful) items can be extremely helpful when getting accustomed to your new dorm room. Here are seven small and often overlooked essentials that students like yourself should bring for your first move to college.
Alarm clock – You can afford to miss only so many classes before your professors put you on their personal blacklist. An alarm clock is a must for all of those 8am classes you ended up registering for back when you were an enthusiastic high school senior.
Bathrobe and Flip Flops – Save yourself from any awkward shower moments with a bathrobe, and don't forget your flip flops or shower sandals because you never know who (or what) has been hanging out in those mysterious community shower stalls in your dorm.
Desk lamp and extension cords – A lamp for your desk is essential for those late-night study sessions as your roommate is sound asleep. Bring extra extension cords for all of your electronics since dorm rooms typically don't have sufficient plugs for both you and your roommate to share.
Laundry basket – Don't forget your laundry detergent, bleach, fabric softener and stain remover. You don't want the reputation throughout your freshman year of being that smelly, new kid from down the hall!
Decorations such as posters, framed pictures and wall tapestries – Every room should have its own style and personality, and a picture or two of your friends and family from home will help – and perhaps even help prevent a potential case of homesickness.
Storage boxes, containers and crates – Organized storage may become your best friend once you move into your first dorm room, especially since it will most likely be smaller than your bathroom at home. Crates and boxes (found at most retailers like Ikea, Wal-Mart and Target) are great for keeping all of your random items neatly organized under the bed or in the closet you may end up sharing with that roommate of yours.
DVD player, speakers, television, small refrigerator and microwave – Make sure to first check your dorm's rules and regulations for what electronics are allowed in your room. Also, try to contact your roommate(s) before you both move in to split up who'll be bringing which appliance or electronic device (and maybe even split the cost for something neither of you both have yet).

This post is brought to you by Kevin Hagan of Transit Systems, Inc., one of the nation's top residential and commercial moving and freight companies. For more information about TSI's long distance moving rates for your college move, please visit their website or follow TSI on Twitter @TransitSystems.